This event has ended.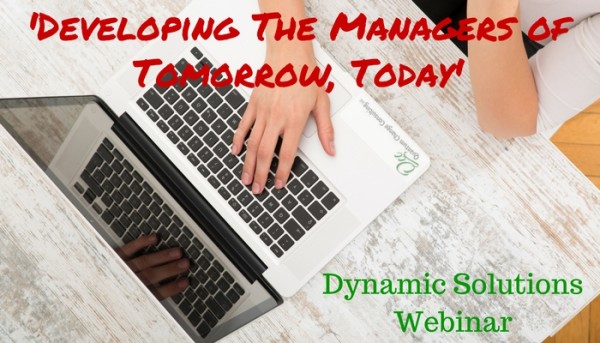 Dynamic Solutions Webinar - ELITE Management / Leadership Training
As those within a Management/Leadership position ( i.e. Supervisors, Managers, Heads, Directors, C-Level Execs), our success is ultimately determined by our ability to get things done through others; however, the skills and awareness needed to be a success at this undertaking is not readily available and as I say "We don't know, what we don't know". So to close this GAP we will be hosting this ELITE Webinar.
If you fall into any of the following categories, this training is a must for you:
New to a management position.
A struggling manager.
Looking for a management/leadership career move.
A desire to be a TOP performing manager/leader.
During our Dynamic Solutions webinar you will learn the critical success tools used by TOP Performing managers to increase their market value.
In this 2 hour hands on webinar class you are going to learn how to become a ELITE manager/ leader of people and how to navigate the Power GAPS, those assigned and unassigned.
The Realities of Managerial Life:
The Challenge:
Interdependency: Managers are dependent on others to get things done and get ahead. Others, in turn, are dependent on them.
Diversity: Differences often exist between managers and those on whom they depend (e.g., differing goals, values, stakes, and working styles).
Power Gap: Managers do not have formal authority over many, if not most, of the people on whom they are dependent.
The Solution:
Our Webinar will give you the awareness, knowledge and tools to:
Understand the difference between Positional and Personal Power at play.
Identify and understand the Dynamics at play in your circle of Influence – both assigned and unassigned authority.
Understand how to manage and navigate the four dynamics of interdependencies.
Understand the differences between the 4 generations in the workplace and how to get them working together as a cohesive unit.
Organizational Benefit:
Increased productivity as a manager of people (time is money).
Decrease in Productivity Waste.
Investment for this is only $479.00 (Retail value $1000)
*EARLY BIRDS who register before October 18th receive a 45-minute complimentary coaching session*
Login details to webinar and handout will be sent the day before event. Be sure your email address is correct
Class is taught by Leadership Development Expert and Author Gita Curniffe, CEO and Lead Trainer/Consultant/Coach for 'Dynamic solutions'.
Any queries please contact Gita at:
We look forward to serving you and your Organization - Quantum Change Consulting LLC
* Quantum Change Consulting, a Colorado based firm with HQ in London, UK; Specializes in resolving Power Dynamics within Organizations.*